Is it time for AC installation in your home? If so, don't put off making that call! Air conditioning does more than just keep you cool and comfortable. An air conditioner also removes humidity from interior spaces, protecting against mold, mildew, and other damage. Also, a home's wood framing can absorb excess moisture, risking rot, warping, and other serious issues.
Additionally, excessive heat and humidity can damage electronics, ruin your houseplants, and even affect your health! Consequently, it's vital that you schedule an air conditioning installation when needed. Check out some details about this process, so you know what to expect from your installer.
How an AC Installation Is Completed
Having a new air conditioner installed is not as complicated as homeowners might assume! While every contractor might offer a different approach, consider how most manage new AC installation:
Step 1: In-home consultation
Many air conditioning contractors start the process with an in-home consultation. This allows them to evaluate the home's size and overall cooling needs. Additionally, your contractor might ask if the current AC offered sufficient cooling. There are specific signs to note when an AC replacement is warranted.
For instance, if you note that the home always felt cool but clammy, your contractor might consider a smaller unit. Overly large units can cool spaces before they can remove sufficient humidity. In turn, rooms feel cool but still humid. Choosing a different AC size can then mean a more comfortable space.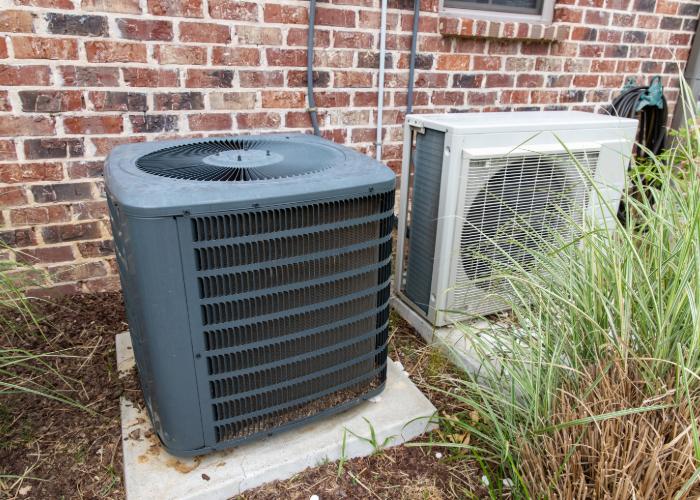 Step 2: Evaluating the home's overall HVAC condition
Before ordering and installing a new AC, your contractor should evaluate your home's HVAC system and overall condition. For example, they might note if they need to repair or replace the concrete pad on which a compressor sits. Also, they might check the home's ductwork for leaks and needed repairs.
Evaluating your home also allows them to decide the right AC model and size for your property. Lots of sun exposure can mean it's time for a larger, more powerful unit! On the other hand, if you've updated the home's insulation, you might get by with a smaller air conditioner.
Step 3: Choosing and ordering your new AC unit
If you're not sure the right air conditioner for your home, your contractor can help! They can advise the best brand for your budget, and the right size for your cooling needs. Once you've made your decision, your contractor usually orders that unit from the manufacturer. This ensures you receive a new unit and not one that's been sitting in a warehouse for years!
Step 4: Removing the old unit
Homeowners should never assume that they should remove their home's current air conditioner! This job is cumbersome and downright dangerous, as it involves electrical connections. Also, central air compressors are typically heavy and difficult to move.
Moreover, many cities have regulations about how to dispose of an old air conditioner unit. In turn, you want to leave this job to your contractor. They ensure a safe removal and disposal process when it comes to AC replacement.
Step 5: New AC installation
Installing a new air conditioner involves more than just sliding it into place and plugging it in! Your contractor needs to connect the new unit to the home's ductwork. Also, central units need refrigerant added, per the manufacturer's instructions.
Above all, your installer should check if the unit is working properly. He or she will usually check the thermostat during this time as well. Your installer should perform any needed recalibrations and other simple fixes once the AC unit is up and running.
Step 6: Follow up
A reputable air conditioning contractor should follow up with a customer after every installation! They should ensure the unit is still functioning as expected and without issues. Also, it's vital that homeowners understand any warranties, rebates to which they're entitled, and so on.
Can an AC Be Installed in a Kitchen?
Yes, this is possible. However, contractors typically do not install air conditioners with a duct system in a kitchen for several reasons. Ductless can work just fine. One, airborne grease and food particles might cling to AC parts, risking costly damage. Two, an overly cool kitchen can affect your cooking, putting added wear and tear on the stove and oven.
Also, a home's ductwork often circulates dust and other debris when the HVAC system cycles on. You don't want that debris ending up on your raw or cooked foods! For all these reasons, many contractors advise against AC or vents in the kitchen. If you need to keep the space cool, consider some suggestions:
Invest in a high-quality range hood or ventilation fan. This fan helps disperse heat and steam on the stovetop.
Keep the curtains closed in the space and use as little light as possible.
Cook with stovetop appliances that emit less heat than a standard-sized oven.
Use plug-in fans to direct heat and steam out of the kitchen space.
Ensure your home is insulated properly so that you're not losing cooling or allowing outside heat into the kitchen!
Can I Fit Air Conditioning Myself?
A homeowner should never try to install anything other than a window air conditioner themselves. Even some window AC units are best installed by a professional! One reason to rely on the pros is that a central unit needs to connect to the home's electrical wiring and HVAC ductwork. Also, it needs refrigerant added, as said. This process risks exposure to that dangerous chemical, so it's better to rely on an experienced contractor for this project.
Additionally, keep in mind that central unit compressors are heavy and cumbersome. However, dropping one can risk costly damage! Improper installation can also mean premature damage over the years. For all these reasons, leave AC installation to a licensed contractor.
Sugar Land AC Repair Services is happy to provide this information about AC installation to our readers. Hopefully, you found this article useful! If you're in the market for expert fixes or installation, call our Sugar Land AC repair contractors today. We offer guaranteed services, using only reputable brands for every installation project. Above all, we're happy to answer all your questions about residential and commercial HVAC. To find out more, use our contact form or just give us a call.